Our Ragdoll Cats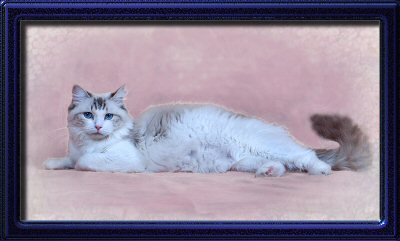 Monet is the queen of the cats. She's very regal and she knows she's gorgeous, but she's also warm and affectionate. She loved having her picture taken and it was hard keeping her out of the photos of our other cats. She had 4 babies three days after these pictures were taken. Monet is a chocolate lynx bicolor.

| | |
| --- | --- |
| | Chimene is a lilac bicolor that I adopted from my friend, Teddy Laury of Limburg Cattery. Chimene was born in Florida but her mom and dad were raised in Europe . She has the sweetest face and personality. She loves to sit with me in my office while I work. |

| | |
| --- | --- |
| Matisse is a daring and fearless boy. He has run of the house because he is a gentleman and doesn't spray like many stud cats. He's still quite young in these photos so he still has some growing to do. Matisse is a blue lynx mitted Ragdoll. I think he's going to enjoy being a dad. | |

Scarlette is an imp.

She loves to "help" me with housework, especially sweeping and mopping.

She is crazy about paper clips and will pull them off my files and then chase them all around my office.

She's a seal mitted with a blaze and long whiskers.

As a kitten, she had the longest whiskers I'd ever seen and it took her awhile to grow into them.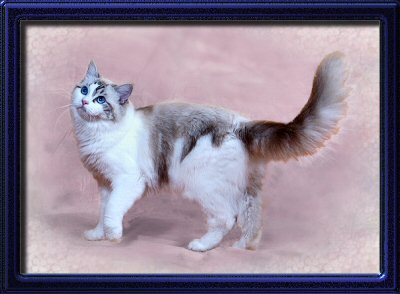 Hailey is another chocolate lynx bicolor. Her mask is slightly "off" but she still has the prettiest face. She's very inquisitive and has to investigate anything that's new or different. Once she's seen everything, she likes nothing better than curling up on a bookshelf and watching everyone else.

| | |
| --- | --- |
| | Neesha is an elegant seal mitted Ragdoll. She has the most beautiful coloring with deep blue eyes, nice, dark points and no shading on her body. She's my evening TV buddy, snuggling up on the back of the couch, happy to have her ears scratched. |

| | |
| --- | --- |
| Cashmere is a cat I never planned to buy. She came from the same cattery in Georgia as Matisse. As soon as I picked her up, I noticed that she had an exceptional coat – thick, plush and soft. When she snuggled up in my lap, purring and kneading away, I was a goner. She's a blue colorpoint Ragdoll and one I just had to have. | |
All photographs taken by:
http://www.wildstockphotos.com