About Rianne Ragdolls
Animals have been the passion of my life. Over the years, I've raised and shown dogs and horses, and bred Siamese, Himalayan and Persian cats. Of all these animals, my favorite is the Ragdoll cat. This is because they hold all the qualities I've cherished in my past pets, whether found in their appearance, personality, or even intelligence.

Fortunately I work out of my home, which is located in Windermere , FL. My self-employment allows the cats constant company during the workday and molds them into very sociable creatures. They are very convivial as they jump and play with my papers and sleep on my desk. Ragdolls deserve a home in which people desire a pet that will become completely devoted to them.
My cats run free in the house, along with my two dogs. We also have two birds and a fish, quite a collection of pets, and they all get along. In addition to the Ragdoll cats, I have a 15 year old Chinchilla Persian, a Himalayan, and a charismatic humane society rescue cat, Angel (photo below).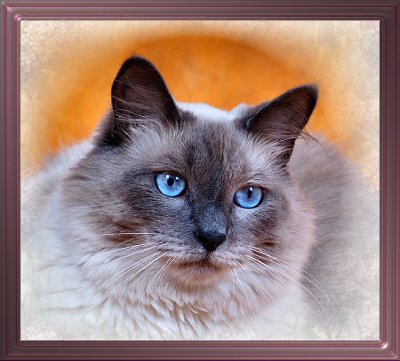 My two dogs, Noodle and Tippy, are fairly small and really rambunctious. They've both become accustomed to the plethora of cats ruling the house, and the cats have grown used to the chaos attributed to the dogs. My family, friends and clients find this menagerie quite entertaining.
Everyone loves to go out on the screened lanai, but, for the cats, that is as far outdoors as they are allowed. Ragdolls are very gentle animals and should never be allowed to roam loose outdoors. Even when they wrestle and play and watch birds on my lanai, I'm always nearby in case their curiosity lands them in the pool. Ensuring a safe home is one of my top priorities in placing my cats with new families.

I hope you'll enjoy looking at the photos on the "Cats" and "Kitten" pages. I welcome your emails and phone calls if you have any questions or would like more information.